The Word: UIW Community Newsletter - May 22, 2020
Spotlight
A Special Message from UIW President Thomas M Evans, PhD 
Dear Students, Faculty and Staff,
I am inspired at every graduation. Yet, I found this graduation, while different due to its virtual format, to be the most inspiring of all. As I stood in the Student Engagement Center filming my graduation message to our Cardinal graduates and their friends and families, I knew that words were simply not enough to convey how incredible they are to have successfully modified their course attendance to fully online mid-semester and realize their goals of obtaining their degrees, all during this unprecedented pandemic. I hope that each of our graduates feels a sense of accomplishment and pride in their great efforts during our virtual commencement ceremonies on May 30.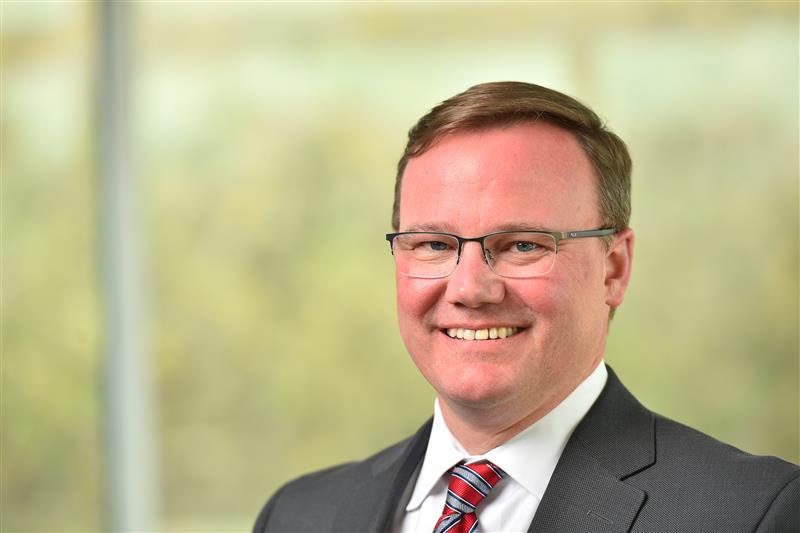 Indeed, all our students exhibited fluidity and adaptability as we asked them to transition to remote learning, move out of dorms earlier than expected, cancel their theater and musical performances, end their sport seasons early, and make many other changes in their lives. Our students' resilience and fortitude are a testament to the power of hard work and grace in responding to a changed world. I also thank our staff for their dedication to serving and supporting our students and our faculty for their innovation in reimagining their classrooms in a virtual space, while still providing the highest caliber of compassionate and quality education.
Having just completed the Spring 2020 term, I would like to share the ongoing work of the various teams that are focused on plans for the eventual resumption of activities on campus. To that end, while early summer sessions will be delivered online, we are hopeful that students will be back on campus for the Fall 2020 term. However, the situation around COVID-19 remains fluid, with guidelines and mandates changing rapidly. We must remain flexible and proceed cautiously, following the guidance of the CDC and complying with mandates of our county, city, state and federal governments. Decisions regarding the Fall 2020 term will be made by the end of June and information will be shared with our students by the Office of the Provost.
Please know that teams across our system are hard at work to protect the health of students, faculty, staff and visitors to our university, and ensure that our students will enjoy caring, rewarding and academically enriching summer and fall semesters. Our leadership team, incident command team, business continuity groups and key members of our faculty and staff have been at work monitoring developments, exploring options and planning for the start of the summer and fall terms for months. Given the complexity and scope of campus activities and many uncertainties, planning has included the development and analysis of several possible scenarios for the upcoming academic year. We also remind ourselves that while we are anxious to return to campus, we must remain adaptable to new conditions as we navigate within our changed world. Finally, we fully appreciate that the financial and operational decisions we make now are essential to upholding and building upon the quality of scholarship and education at the University of the Incarnate Word in the years ahead.
The Incident Command Team, led by Dr. Glenn James, vice provost, and Sam McDaniel, director of Environmental Health, Safety & Risk Management, includes the core group of Dr. David Garza, UIW medical director, Dr. Ronda Gottlieb, assistant director of Health Services, Dr. Darrell Haydon, CFO and vice president for Business & Finance and Margaret Garcia, director of Communications & Brand Marketing. This team serves as the overarching group overseeing all aspects of the public health concerns related to planning and preparations to meet its objective to protect the health of students, faculty, staff and visitors to the university and the communication of those messages to the UIW community. This team of healthcare professionals and leaders from UIW are providing expert guidance on the conditions under which students, faculty and staff could gather on the various campuses. Some of the issues under discussion include availability of testing, use of face coverings and personal protective equipment (PPE), the level of population density in campus offices and classrooms, campus housing, and other campus environments in relationship to the potential spread of COVID-19, social distancing, quarantine planning and building a campus culture in which everyone recognizes our individual and collective responsibility for maintaining a healthy environment.

The Academic Planning Team is focused on preparing course options that maximize opportunities to enhance learning – with in-person classes as much as safe practices will allow, combined with creative and engaging remote instruction. Options will be available for students who have a preference or need to continue to attend remotely. Our fall offerings will have the flexibility to pivot smoothly to fully remote learning if our regional health concerns require that again. This team is also working on enhancing the online delivery of our various support services. Our university faculty continue planning to be fully prepared for summer and fall semesters to continue our high standard of excellence and dedication to student education and engagement—regardless of the delivery method.

The Financial Planning Team is led by Dr. Darrell Haydon, joined by Douglas Endsley, our soon-to-be retired CFO, and Edie Cogdell, our controller. The finance team is developing response and contingency plans that will allow UIW to remain financially resilient to the risks that the pandemic has caused for all major institutions of higher education, including ours. In addition, this team will be proposing to the Board an adjusted fiscal year 20-21 budget to reflect the expected impact from the pandemic on our enrollment and financial operations during the upcoming academic year.

The Campus Life/Housing/Dining Team, led by Sandy McMakin, associate provost, is analyzing safe housing options for our students' eventual return to campus, residence halls and dining facilities. They are also focused on planning diversified programming and activities to engage our students on campus, as well as in creative, educational and entertaining online options.

The Human Resources Team is led by Annette Thompson, associate vice president for Human Resources. The HR team is exploring a number of different possibilities to support our employees and ongoing needs of the university while shaping the workforce in light of projections across the higher education industry that indicate that the economic difficulty and uncertainty caused by this pandemic will continue for some time. The team is analyzing options for employees and, for those currently working remotely to return to work on campus with careful attention to their health and safety, and in a manner consistent with all federal, state and local health requirements.

The Athletics Team, led by Richard Duran, interim athletic director, is working with the NCAA and Southland Conference on guidance for a safe return to competition. Athletics training staff are working closely with the university medical team on plans and preparations for safely returning student athletes to campus and are partnering with Campus Police to support the university's screening program for temperature checks for all entering the Broadway campus.

The Development and University Relations Teams are working on COVID-19 related philanthropic efforts. Immediately following declaration of the pandemic, they collaborated with the offices of Financial Aid and Finance to create an Emergency Impact Fund, which has raised almost $30,000 to help students impacted by COVID-19, and have several requests pending with community-based and national founders. The Government Relations Team continues to seek out grants and other opportunities to benefit our students and university; it was instrumental in UIW being among the first universities in the nation to receive and distribute to our student emergency funds from the CARES Act.

The Facilities, Information Resources, and Public Safety Teams are working to improve the safety and effectiveness of our learning environments. These efforts include installing over 100,000 square feet of plexiglass to improve staff and student safety, increasing our investment in classroom technology to improve our flexibility to deliver in-person and online instruction, and to develop the safety processes and procedures to ensure that our campuses are prepared to welcome back students for the fall.

The Office of Communications and Brand Marketing is ensuring that everyone in our community across all campuses is up-to-date on announcements, new procedures and policy changes. The team continues messaging specific to our many constituencies through several different platforms, so that all in our community understand their role and how they may be impacted. The creation of different communication delivery models, from one-on-one to social media interactions to email or web-based announcements, are ensuring access to all members of our community in multiple mediums.
Kudos go out to Neil Schroeder and the Information Resources Division who seamlessly executed the transition to distance learning for our students and remote work for our staff and faculty throughout the university. Their attention to detail to ensure the reliability and security of our infrastructure is noteworthy and another example of the UIW community coming together as one.
I congratulate our graduates once again and pray that everyone remains safe, healthy and compassionate to the needs of themselves, their families and others. I ask members of our community everywhere to please join in prayer for all those suffering from COVID-19, those caring for them and all who are affected by this pandemic.
Praised be the Incarnate Word!
Sincerely,
Thomas M. Evans, PhD
President
Academics
Philosophy Student Awarded Excellence in Philosophy Honor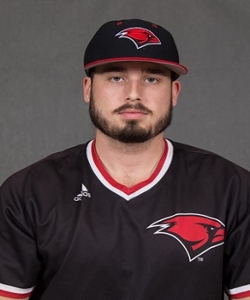 Dr. Kevin Vichcales, dean of the College of Humanities, Arts, & Social Sciences, reports that the Philosophy Department wishes to congratulate senior Andrew Morgan, this year's winner of the Robert Connelly "Aletheia" Award for Excellence in Philosophy.  The Connelly Award is bestowed annually on the Philosophy major who best exemplifies the impulse to think critically, comprehensively, and deeply about matters of ultimate human concern.  Andrew transferred to UIW in the fall of 2018 to study Philosophy and join the UIW Baseball team; after graduation this May he plans to attend flight school. Congratulations, Andrew!
Dean of Libraries Elected to Amigos Library Services Board of Directors

Tracey Mendoza, dean of Libraries, was recently elected to serve on the Board of Directors for Amigos Library Services, a national consortia that supports libraries in service to their communities.  Amigos serves over 500 member institutions across the U.S. and internationally.
UIW Nursing Receives COVID-19 Funding

This week the UIW Nursing program received notice it has been awarded $78,000 in Health Resources Service Administration COVID Cares funding to support the development of telehealth competencies in faculty and students for clinical practice. Spearheaded by Dr. Linda Hook, assistant professor, the Ila Faye Miller School of Nursing & Health Professions expects to work with the other health professions schools to build students' capability to respond to the needs of vulnerable populations served by local community agencies who would benefit from telehealth visits in this time of the COVID-19 pandemic and thereafter.
A Q&A with Dr. Jakob Rinderknecht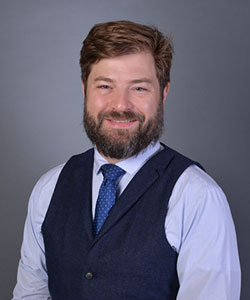 Dr. Jakob Karl Rinderknecht is the director of the Pastoral Institute at UIW and an assistant professor in the College of Humanities, Arts, & Social Sciences. His research focuses on the implications of human embodiment for theology, particularly in situations like ecumenical dialogue where people are speaking to each other across differences of culture, language, or concern. We spoke with him for his take on the current pandemic and how people of faith can cope.
Q: What kinds of questions are you getting about the current pandemic from people of faith?
A: People of faith are going through the same kind of frustrations, worries, and difficulties that everyone else is. The difference has been the ways that people have struggled to understand and come to terms with these difficulties. Perhaps the one unique difficulty to people of faith, and especially Catholics, is the inability to celebrate publicly: to attend Mass or other services. Despite some people arguing that we should be able to go to church during these times, the bishops have called for masses to be curtailed out of love for the neighbor. This can be feel even more isolating in the current situation. But the church has a long tradition of home devotions: prayers at morning and evening, the rosary, and other practices that are available to people wherever they are. Friends I have who have children have particularly found these practices to be helpful for their family.
Q: What does religion have to say about dealing with uncertain times like this?
A: Many of the things that we have been asked to do —staying home, wearing masks, checking in on our neighbors — can be understood as opportunities for the love of neighbor that traditionally gets called "caritas" or charity among Christians. We wear masks when we go out not because we are afraid, but because we are doing what is necessary and accepting the difficulties so that we can protect others, especially the vulnerable. Christianity calls this the preferential option, making choices for the benefit of those who are in need.
In addition, a lot of theologians have done particular work in the present era asking what this crisis means for us, ethically, theologically, personally. One question we should be asking is what this experience reveals about the way that the world was when it all started. Who is being particularly hurt by these changes? Why? How do the structures of our world that usually lie hidden to us benefit some and harm others? What are we able to see now that we couldn't see before? And then, what are we going to do about it out of that same caritas to which Christians are always called?
There is a lot going on right now, and many people are feeling overwhelmed. I don't mean to add more to those people's plates, but as a society, as a church, as a university, we have a responsibility to pay attention to the world and then try to respond in light of the Gospel that brought our founding sisters here to South Texas. If Christ became human, they reasoned, then every human is worth serving. That's why we publish that excerpt from Bishop Dubuis in every graduation bulletin:  «Our Lord Jesus Christ, suffering in the persons of a multitude of the sick and infirm of every kind, seeks relief at your hands…» The sisters heard that call and came to Texas to offer relief to the sick and infirm of every kind because in doing so they would be serving Jesus. That's the kind of reasoning that lets people actually make a difference in responding to the underlying problems in society that this virus has revealed.
Q: What is your personal message to people of all faiths?
A: I study interfaith and ecumenical dialogue in my own research. I'm fascinated by watching all the ways that religious people are working together right now to understand the world and to try and make it better. I'd encourage people to ask what their communities are doing and with whom they are currently in dialogue. And then to get involved in something that responds to what this crisis has taught us about ourselves as a society.
Mission & Ministry
Cardinal Inspirations: Margaret Mitchell, Professor of Theatre Arts

"The point is, art never stopped a war. . . That was never its function. Art cannot change events. But it can change people. It can affect people so that they are changed—they then act in a way that may affect the course of events . . . by the way they behave, the way they think."—Leonard Bernstein
In a very strange way the isolation of the pandemic has been a gift. It has given me the gift of time to think about Mr. Bernstein's quote and to plan some activities I never would have had time to carry out in our usual highly mobile and all too busy world. In times of crisis, society needs art more than ever because art gives us pathways to mine the internal lives of ourselves as artists, but more importantly it connects us to mining the internal lives of others, to pull the soul out from the body, to witness one another deeply, and perhaps to expand empathy.  
Mother Columkille Colbert, CCVI said, "Glory to God, service to others, trouble for ourselves …" For many years the last part of this quote has made me laugh because sometimes service feels like a lot of trouble, but in this pandemic, service feels far from it. Like many costume designers around the country and their students and alums and friends, I have spent hours and days and weeks making masks or organizing the making of masks for people in society who may be forgotten or for clinics who have few resources. We are just making masks. It's not that hard. Most of us are capable of making very complex garments. However, the surprise has been the joy of unified creation in a time of isolation. Our group, our team, our chorus of mask makers continue to create together, even though we can't produce a play or a fashion show together. We can't be together physically, but we are together. My hope is that most of us find a way to use our skills to help others, and that the artists among us take the time to make work that will connect and change us.
Cardinal Inspirations: Orit Eylon, Associate Professor of Music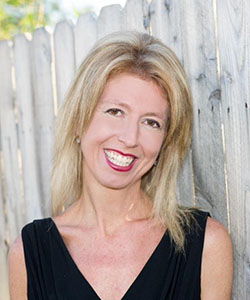 My 3-year-old told me how he had a big dream. He said, "I dreamt that you were driving me to school and I was watching the school buses on the roads while we went to school and then I saw all my teachers and friends at school again."
During this time of distance from friends, colleagues and loved ones, I often look at this favorite Psalm.
God is our refuge and strength, an ever-present help in trouble. Therefore we will not fear, though the earth gives way and the mountains fall into the heart of the sea, though its waters roar and foam and the mountains quake with their surging. – Psalms 46:1-3
There is a Talmudic term that I always refer to  – "This too, is for the good." I inscribed these words into my nephew's bracelet for his 18th birthday. He will not have his senior prom, or graduation or his final senior jazz band concert. Even with all this loss, he will have lots to look forward to in the future: his freshman year at college, new friendships, new discoveries. This pandemic is for the good. For the good of us to discover new ways to give and conform in our social society. Ways to reflect on what we can do better for ourselves and others in the world.
Cardinal Inspirations: Allie Melancon, UIW Alumna

Living in the light of the Word of God is a daily practice that for me is shaped by these three elements: community, blessing, and communion. My daily life and spiritual practices are informed by an incarnational understanding of who Jesus calls us to be in the world. One of the elements that I lean into in my daily life is the practice of being present. These days, my daily life is marked by; rest, coffee, exercise, prayer, corporate prayer (via Zoom), time in nature, reading, and work. All of this is subject and open to being interrupted by the Holy Spirit. I strive to live and structure my days where there is space to allow for interruptions, or even the expectation that interruptions will occur. This way of going about life has impacted the way in which I see and understand God working in the world. I used to get frustrated when my plans would get waylaid, now I just leave early. It is easy to see life as a series of chaotic events, instead of being pursued by a wild goose (the Holy Spirit). I pray we continue to create space to see God working in our lives and the world.
COVID-19
Community Updates
The dignity, health and wellbeing of every member of the University of the Incarnate Word community remains an institutional priority at the heart of our Mission. In response to this pandemic, UIW has assembled a team that meets daily to ensure that every possible contingency to keep campus life moving forward is considered when making campus-wide decisions. UIW continues to work closely with local and state officials, is taking all precautions as directed by the CDC, and sharing preventative information and resources with the University community via email. As a community, we offer our prayers for all of those affected by COVID-19 and all those who care for them.
Community News 
UIW Honors 2020 Retirees 
Please join us in celebrating and extending best wishes to all our employees with upcoming retirements. Together they have contributed 190 years of service to UIW. Thank you for your commitment to our beloved University. We wish you all the best in this new chapter of your life!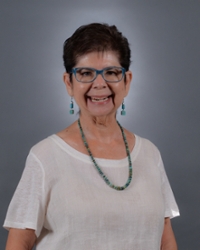 Dr. Esmeralda De Los Santos, professor, H-E-B School of Business & Administration
33 years of service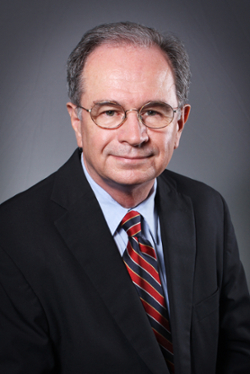 Doug Endsley, vice president of Business & Finance
26 years of service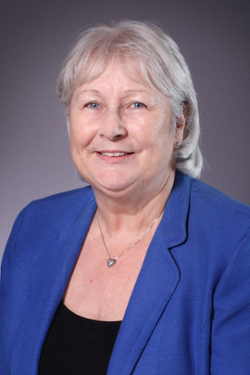 Dr. Letitia Harding, associate professor, College of Humanities, Arts & Social Sciences
12 years of service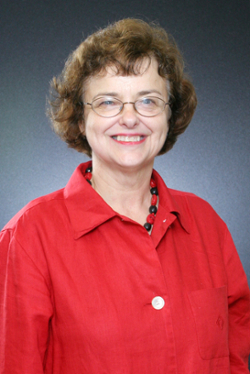 Dr. Mary Sharon Herbers, professor, Dreeben School of Education
14 years of service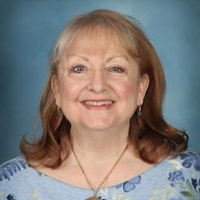 Miriam Kellogg, teacher, Incarnate Word High School
27 years of service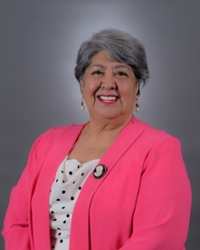 Diana Salazar, secretary, Feik School of Pharmacy
18 years of service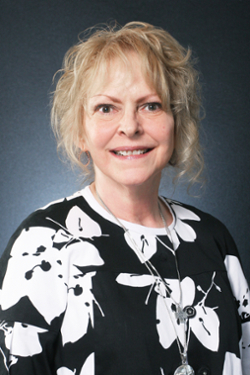 Dr. Mary Beth Swofford, associate professor, College of Humanities, Arts & Social Sciences
34 years of service
From Courtside to Bedside: Learning and Leadership at the Center of UIW Nursing Grad's Success

"In that moment, I could feel an overwhelming sense of fear take over my body. With hands trembling, heart racing, and sweat beading up across my forehead all I could think about was 'I am 12 years old, I don't know that I can do this'!"
It was 1994 and Laura Thompson had just been diagnosed with Type 1 diabetes mellitus. She was in the middle of spending a week at Brooke Army Medical Center. In "that moment" she describes, Thompson was learning the life lesson of how to administer her own insulin. But what she was also learning about is a profession that would become her life calling. Lessons learned from a nurse … and an orange.
"My nurse sat at the bedside with me and walked me through every step," Thompson recalls. "From filling the syringe, wiping the orange with an alcoholic swab, to administering the orange's insulin. After several practice runs, I was ready to face the challenge and there has been no looking back! My nurse truly cared by showing compassion and patience when I needed it the most. And her innovation enabled me to overcome my fears and embrace new norm."
Thompson's current new norm is on the frontlines of the battle against COVID-19 as an interim nurse leader in California with oversight of an intensive care unit and telemetry care unit. They are leadership skills she honed as a three-time graduate of the University of the Incarnate Word with Athletic Training ('05), Nursing ('10), and Doctor of Nursing Practice ('16) degrees.
"One of the many reasons why I chose to attend UIW was because my own beliefs aligned with the school's Mission, vision, and values," explains Thompson. "Just as Jesus came to serve others, UIW is committed to emphasizing the value of community service and improving the quality of life for everyone. While at UIW, whether for athletic training or nursing, I was blessed with the opportunity to serve our community."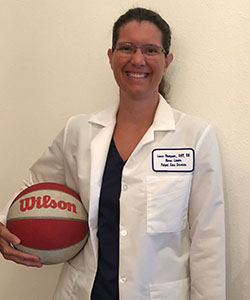 Another reason to choose UIW: basketball. Thompson excelled on the court in high school. She still holds two records at her preparatory school, Saint Mary's Hall for most points scored in a game (54) and most points in a career. During her freshman year at UIW, she played under coach Angela Lawson. But it is what she learned from basketball off the court that has helped to carry Thompson in her present career.
As Thompson shares, "Many of the lessons learned from playing college basketball at UIW either taught or reinforced the importance of teamwork, commitment, servanthood, dedication to lifelong learning, hard work, humility, resilience and leadership. Each of these qualities shaped me into the nurse leader that I am today."
Her leadership landed her in a hospital in South San Francisco in December of 2019 just as the world pandemic hit American shores.
"While working in San Francisco, my teams experienced the entire gamut of COVID-19 from hearing about the virus on the news to working around the clock to save lives," says Thompson. "The truth is that this is a very new type of virus, and when our first case arrived we did not know as much as we do now. You can only imagine the questions, fears and anxieties that our healthcare workers experienced with our first case."
But as the cases mounted, so did the response. And Thompson saw many of those life lessons she learned on and off the basketball court come to reality. Teamwork, commitment, resilience … all on display on a daily basis.
"As a hospital, we embraced a multi-disciplinary approach to ensure all associates, from security to food services, were prepared for COVID-19 long before our first encounter," says Thompson. "Nurse educators and leaders worked with front line personnel validating appropriate procedures regarding donning and doffing personal protective equipment and providing real-time feedback and education in an effort to ensure everyone remained safe. Additionally, we organized hospital wide simulation training for all associates to have a hands-on approach to understand their specific roles and procedures to follow throughout the continuum of care a patient received."
And as CDC guidelines and recommendations quickly changed, so did Thompson and her staff. Quickly adapting to the ever-changing COVID-19 climate as hospital leaders held town hall meetings and kept the lines of communication open with front line personnel. Thompson says every step of the way has been yet another learning opportunity and she is struck by how so many people have been able to come together and work effectively to keep staff safe while providing safe, high-quality care.
"First and foremost my message to all healthcare professionals is 'Thank You' for answering the call to serve humanity with compassion and benevolence!" says Thompson. "Additionally, heartfelt gratitude and recognition is sent to everyone working in any type of frontline position where you are in harm's way to serve others. Your dedication of altruism is recognized and appreciated."
Lessons learned on the court, in the classroom and as a pre-teen with an orange: all added up to a life so far spent in service and leadership. And with more lessons to be learned even in uncertain times.
"I would ask everyone for a moment of reflection to identify something positive that has become of the current situation," she says. "For example, despite these difficult times, we are seeing communities grow stronger through support of each another. Neighbors are checking on neighbors, families are spending time together by exploring local parks, community members are becoming more active, businesses are giving back to show support and the list goes on and on. Although we don't exactly know what life after COVID-19 will look like, I hope that we never lose sight of what this experience has taught us! Just like our parents, grandparents, and great-grandparents were affected by the Great Depression or World War II, we do have the opportunity to work together to create a better world after COVID-19."
Swing-In: A 43-Year UIW Tradition

When the Sisters of Charity of the Incarnate Word arrived in San Antonio, they probably had no idea they had started what would become the largest Catholic university in Texas and the fourth-largest private university in the state.
Founded in 1881, UIW has never stopped innovating, always remaining committed to providing an outstanding education and a brighter future for all its students. The beloved campus has been a constant witness to history; it is a treasure chest of all the memories and cherished traditions that have helped forge the University's identity.
For 43 years and counting, the University has hosted a special event that has not only become an important UIW tradition, but brings together the entire San Antonio community… the Swing-In Auction Party and Golf Tournament, a fundraising event dedicated to raising scholarship funds for UIW's Cardinals.
In her book, "Promises to Keep," Sr. Margaret Patrice Slattery, CCVI, president of then-Incarnate Word College from 1972 to 1985, shares a story that gives some insight into the birth of the philanthropic efforts of the University. On April 20,1983, only three years after Incarnate Word College had celebrated its centennial celebration, Brackenridge Villa suffered a devastating fire. This historic building dates back to 1852, and was used by the college administration to host alumni and benefactor gatherings. It was considered one of the finest examples of Victorian architecture in the city and was even listed on the National Register of Historic Places in 1978. Facing a $1.5 million restoration bill, the Congregation had no choice but to start a campaign to raise the necessary funds.
Since that time, fundraising became more and more important for the institution. Costs in the educational process, such as faculty salaries, were increasing dramatically, and more students found themselves in need of financial assistance. Sister Slattery sought the help of a Development Board to support the University's philanthropic efforts. Together, they organized the very first Swing-In Golf and Tennis Tournament, an event to benefit the athletic facilities.
Forty-three years later, Swing-In, just like the University, has evolved. Today, the scholarship fundraiser is a two-day event consisting of an auction party on Thursday night, followed by a golf tournament the next day. Over the last two years alone, the Swing-In Auction party and Golf Tournament has raised nearly $1 million for UIW students through the generosity of sponsors and friends led by the UIW Development Office, the Development Board as well as Board of Trustee members such as J. Scott Beckendorf.
"I first started volunteering to help the students of the University of the Incarnate Word when in 1997 a friend asked me to attend a UIW Development Board meeting," Beckendorf said. "I enjoyed the members of the board and the Mission behind the University, so I became a member of the development board. The board's main fundraiser has always been the Swing-In Golf Tournament."
"Back when I joined, the Swing-In event was all in one day. We had the golf tournament and then after playing golf all day we held a silent bid auction. The Swing-In fundraiser has evolved nicely over the years from a feeble golf tournament with an after-golf silent auction to one of the most successful charity events in the entire city of San Antonio, raising hundreds of thousands of dollars each year for student scholarships. These funds ... are paramount in providing financial aid through scholarships to the large population of UIW students that require financial assistance. My wish is to have every faculty member, university staff member, and Board of Trustee member attend the [virtual] Swing-In events in support of our students!"
Sr. Kathleen Coughlin, CCVI, senior advisor to the president for Leadership Gifts and Sponsored Ministries, has played a key role in transforming the event into the tradition and success the event is today.
"Swing-In is a community-wide event where people come together and have a good time associated with our name," Coughlin said. "And our students are the beneficiaries through the money raised that goes directly to them for scholarships. The members of our development board partner with us to make it a fun initiative and ultimately achieve our goal."
Fundraising initiatives help universities provide students an unforgettable experience along with a quality education. Through these gifts – whether monetary, in-kind contributions, time, scholarships, or university funding – institutions have the power to change lives. Students are the future; an investment in their future is an investment in our world.
What makes UIW so special? It's the students, the faculty members, staff administrators and friends; it's the history the walls hold and the traditions built year after year. Some traditions are rooted in the Mission and values, while others provide a chance to celebrate accomplishments. These traditions bring the community together and become the heartbeat of the UIW family.
The 2020 Swing-In Auction Party, originally scheduled for Thursday, April 30 at the McCombs Center Rosenberg Sky Room, has been rescheduled!  The auction will be an online-only event, kicking off on Monday, June 1 and concluding on Monday, June 15.  The Swing-In raffle winner will be announced on June 15 once the auction closes. The Swing-In Golf Tournament, originally scheduled for Friday, May 1, at the Republic Golf Course is unfortunately cancelled.
Learn more and participate in this 43-year-old tradition or contact Ana Bribiesca Hoff in the Development Office at (210) 829-6075 or bribiesc@uiwtx.edu
Swing-In Raffle
Swing-In raffle tickets are still available! Only 325 tickets will be sold! Buy your Swing-In raffle ticket for $100 and support UIW students' education through the purchase of your ticket(s).
All proceeds will directly benefit the Scholarship Fund and provide UIW students with the opportunity to further their education at a faith-based institution. Winner will choose one of the following prizes:
$5,000 Credit balance on credit card 
Banff, Calgary and Lake Louise Trip
Tuscany Culinary Escape
Scotland Championship Golf Experience
Purchase your raffle tickets here.
Cardinal Corner
Cardinal Chronicles: Rhonda Cataline, UIW Class of 2020

Our UIW family is familiar with our origin story  – three sisters made San Antonio their home in response to a desperate need for help during a cholera epidemic. Fast forward more than a century and we're faced with another health crisis, this time on a global scale. It's been a scary time, but we take comfort in the fact that there's something else that hasn't changed  – our students remain committed to carrying forth the legacy and mission of the Sisters of Charity of the Incarnate Word ... students like Rhonda Sue Cataline.
Rhonda, a graduating Cardinal, is no stranger to service. Originally from Slebyville, Illinois, she has been Active Duty as a Hospital Corpsman for 10 years. Her service to country has taken her to Italy, San Diego, aboard the USNS Mercy, and now, Texas. No matter where she went, though, Rhonda always longed to be a nurse. It was a dream that she was finally able to pursue thanks to the Navy's Medical Enlisted Commissioning Program (MECP).
"The MECP is one of the most wonderful opportunities the Navy has to offer," Rhonda explained. "Once I learned about the program, it took me about five years to get the requirements together and apply. The selection process is very competitive. I had the opportunity to be selected on my second attempt."
MECP allows enlisted sailors to earn an entry-level degree in nursing while serving. The program allowed Rhonda to attend nursing school full time without a break in service and "with the Navy's full support."
Once she graduates this spring, Rhonda will be stationed at Camp Lejeune, North Carolina where she will work in the Naval Hospital. While she's not quite sure in what area of nursing she'll be placed, she's still "excited to provide care to our service members and their families."
When looking back on her time at UIW, Rhonda says she's grateful for much. From faculty who she called "intelligent and dedicated" to all the lessons she learned. Most of all, she's grateful for the patients who allowed her to care for them.
"By giving me their trust, I have learned strengths and weaknesses that have further ignited my dedication to provide compassionate, high quality care, and to be the best nurse I can be," she explained.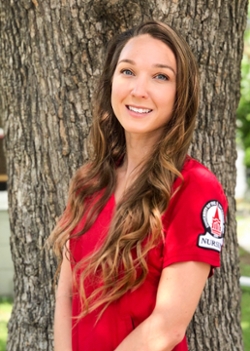 Her University family couldn't be prouder that she, and others like her, will continue the legacy of the Sisters of Charity of the Incarnate Word. As Rhonda put it, "the lessons learned at UIW in spirituality of learning and caring for people will carry on to [my] nursing profession and allow [me] to reach patients in a unique way, while also remembering to care for myself." It's a lesson she saw up close while caring for the homeless and reaching out to underserved populations during her time as a student.
Her advice to students just starting out is that while there will be many challenges ahead, "putting your best foot forward and working hard will only make you a better person and nurse. Challenges allow you to find out what you're capable of, and it's okay to fail, because when you fail or struggle, you also learn."
Wherever Rhonda's service takes her next, her UIW family will rest easier knowing that the Mission of our founders continues to reach every corner of the world.
Congratulations Rhonda, and thank you for your service!
Marching Cardinals Announce New Drum Major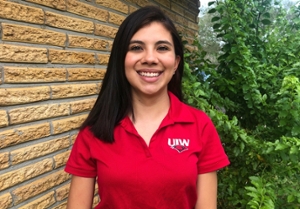 Congratulations to the newest Drum Major of the Marching Cardinals, Briana Garza! Briana is a sophomore Music Education major who plays clarinet in the Wind Ensemble, Cardinal Red Basketball Band, and studies with Mrs. Kathleen Jones. She is also a proud graduate of H.M. King High School (Kingsville, TX) where she served as drum major of the band during her senior year. Briana is an outstanding musician, fantastic teacher, and respected by her peers. The Marching Cardinals are in amazing hands. Thank you to Coby Heimann, graduating drum major, for his many years of service to the UIW Bands.
A Letter to my Younger Self - Hector Ruvalcaba Cruz

Dear Hector,
It is exciting to see that you are becoming a great swimmer, and that you are about to start the next chapter in your life as a student-athlete at UIW. However, there are some things that I want to tell you about the road ahead.
First, get ready to grind because things are not always going to be easy and you will have to face many challenges down the road. Overall, being a student-athlete is extremely demanding, both physically and mentally. You will find out that you are not going to be in control of certain aspects in your life, so you are going to have to deal with some bad days, disappointing competitions, the stress of school, and sometimes you will feel frustrated because things are not going the way you expected. But you know what? It is OK to feel like that sometimes. Failure is part of the process and will be part of the product. Just remember that every time you feel defeated, you will get up stronger and wiser.
Believe me when I say that all your effort and sacrifice will be rewarded. This is going to be one of the best chapters in your life so you should be excited! You are going to meet a lot of people along the way and build great friendships, you will visit many cool places around the world, and you will make some of the best memories of your life. Keep in mind that time goes by incredibly fast, so please enjoy every moment and be thankful for all the blessings in your life. Always try to surround yourself with people that share your ambition and have similar goals, motivate each other, and lead by example. Also remember that you are always going to have your family and friends there to support you unconditionally.
The mental and physical challenges that are waiting for you will test your courage and determination in many ways. But you are up to the challenge and you will find great satisfaction when you overcome those obstacles. Listen to your coaches, trust the process, enjoy the journey, and most importantly always believe in yourself. You are going to be surprised when you realize how far you have come, and that might be just the beginning... So, keep fighting for what you want and never give up on your dreams.
I believe in you,
Your future self 
Alumni and Parent Relations 
Red Talks

Red Talks are exclusive opportunities for UIW Alumni to share experiences, ideas and career development tools with current UIW students and fellow Cardinals. We're seeking alumni presenters to discuss topics like virtual networking, interviewing, work conflict resolution, leadership methods and more!   
Each presentation will be published on our @UIWAlumni social media platforms. Presentations should be no longer than  30 minutes performed live or pre-recorded. Sessions may be presented as a lecture, interactive, persuasive or freeform style. 
Would you like to help the next generation of UIW alumni with your knowledge and expertise? If you're interested in being a presenter,  please fill out the form here . The UIW Alumni Association will be in contact within five to seven business days upon submission. Should you have any questions, please don't hesitate to contact us at  alumni@uiwtx.edu.  
UIW Alumni Small Business Directory

The Department of Alumni and Parent Relations wants to support UIW alumni-owned small businesses! In response, we have created an online directory showcasing alumni-owned business to all our UIW community.  
Access the directory and/or submit your business. If you have any questions, please contact us at  alumni@uiwtx.edu.
Athletics
Bailey Selected for 2020 Academic All-District Men's At-Large First Team, selected by CoSIDA

University of the Incarnate Word men's golf student-athlete Trevor Bailey was named to the 2020 Academic All-District® Men's At-Large First Team, selected by CoSIDA, announced the organization Thursday.
"Trevor has constantly proven his maturity in being a student-athlete," said UIW Head Coach Remy Huston. "His persistence and dedication have paid off, and I'm so excited for him to receive this honor." 
Bailey, who also earned 2019-20 Southland Conference Men's Golf All-Academic first team honors in April, is graduating on May 30 with a perfect 4.0 GPA in accounting after just three years at UIW. He showed that he works hard in all he does, completing 49 hours of community service through three years and competing in all seven tournaments for UIW during the 2019-20 season.
A native of Cibolo, Texas, Bailey has earned Dean's List accolades each semester at UIW (Fall 2017-Fall 2019, Spring 2020 has not been released yet). He has been named to the Southland Conference Commissioner's Honor Roll twice, is a member of the Pi Theta Kappa Honor Society and is a men's golf Student-Athlete Advisory Committee (SAAC) representative.
Bailey plans to attend graduate school at UIW in the fall. After earning a Master of Science in accounting, he plans to work in civil service in the Air Force, following his mother's footsteps.
The 2020 Academic All-District® Men's At-Large Team, selected by CoSIDA, recognizes the nation's top student-athletes for their combined performances in athletic competition and in the classroom. Honorees selected first-team Academic All-District® will advance to the CoSIDA Academic All-America® ballot. Academic All-America® honorees will be announced from June 16-19.
A Q&A with Men's Tennis Head Coach Jonas Andersson

University of the Incarnate Word men's tennis Head Coach Jonas Andersson has been with the Cardinals for three seasons. In his first season, he guided the Cardinals to a Southland Conference regular season title, marking the first SLC championship in UIW Athletics department history. We caught up with Andersson to gain some insight into why he loves San Antonio, why he loves coaching, and more.
Q: Why did you decide to become a tennis coach?
A: I started coaching tennis right after college after getting an opportunity to teach at San Antonio Country Club. It felt natural to go from playing the sport that I enjoyed for so many years to then being able to make a living doing it. I've coached tennis now for over 20 years at all different levels.
Q: At what age and under what circumstances did you start playing tennis?
A: I started playing tennis at the age of 5. My mother decided to put me in tennis after I got in trouble at kindergarten hitting other kids with sticks. She thought it was a better idea to hit tennis balls instead.
Q: What is your favorite thing about being a tennis coach?
A: Having played tennis at a high level helps me relate to my players and understand the efforts it takes to combine school and playing a sport. I love the competition and the process of helping my players prepare for matches.
Q: What is something the community does not know about you?
A: When I lived in California, I spent some time teaching at The Beverly Hills Hotel, giving tennis lessons to movie stars and famous musicians.
Q: If you weren't coaching men's tennis, what sport would you be most interested in coaching and why?
A: Probably soccer. I grew up playing soccer in Sweden and had to make the decision at 14 years of age to choose between tennis and soccer.
Q: You played for UIW and now you are the head coach of the men's tennis team. What does it mean to you to be back coaching at your alma mater?
A: It is amazing to have made a full circle back from playing at UIW to now coaching at the school. I have many great memories from my college years at UIW, including being their first athlete to win a NAIA National Championship in singles and doubles. UIW is an incredible community with great people, and the leadership here is so supportive of our program. That means a lot to the team.
Q: What is your favorite part about San Antonio?
A: After living close to the beach in Los Angeles for 16 years, I knew moving back to San Antonio would be a big change. But the transition moving to Alamo Heights was really positive for my family and for me, everything from the school district to organized sports for my kids. My favorite part is living in Alamo Heights, being 10 minutes from downtown and the Pearl Brewery district, and the warm, friendly community here. We've been back for about 3.5 years, so we're definitely settled in, and it's a wonderful place to call home.
Dear Synchro, Thank You, From Lauren Rein

Dear Synchro (synchronized swimming),
Over the past 13 years, you have given me more than I could've ever imagined. You have given me a support system of teammates who have become lifelong friends and coaches who have guided me through my highs and lows. You have given me the strength to endure life's challenges and embrace its rewards. Thank you for the early mornings and late nights and teaching me the value of hard work and determination. Thank you for letting me travel the continent and explore new places with my best friends. I am endlessly grateful for the opportunity to receive my education while continuing to pursue my goals athletically.
Synchro, you have given me confidence in myself and my abilities beyond what I thought would be possible. You have given me an outlet to express myself and my passion. You have given me leadership skills that I will carry throughout my life and have shown me how important it is to stay true to myself.
Thank you for the adventure of a lifetime. I will forever treasure the time we had together.
Sincerely,
Lauren Rein