Background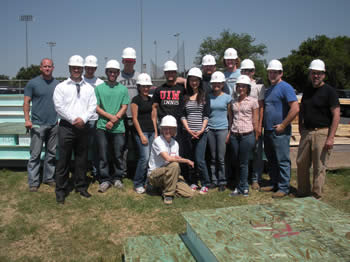 The Solar Home is the culmination of a five-year project designed and constructed under the direction of Dr. Alison Whittemore, chair, UIW Department of Engineering and Physics and Project Manager Daniel Potter '01 BS. The project was funded by a federal grant from the Department of Education.
In 2008 the senior engineering students came up with an ambitious idea. They wanted to design and build a home to compete in the Solar Decathlon hosted by the Department of Energy (DOE). The Solar Decathlon is a prestigious competition held every two years. In the Decathlon, collegiate teams design and build energy-efficient houses powered by photovoltaic panels. These teams spend almost two years creating houses to compete in the 10 contests of the Solar Decathlon.
In Fall 2008, seniors began working on a design which was based on the DOEs competition criteria. As the seniors would graduate they would pass the torch to the next students in line, who would continue to work on the project and bring it closer to completion. The original design from 2008 was based on a layout that emulated a bird's wing and was to be created by a panelized construction system.
The application and project were submitted for the 2011 Solar Decathlon. Though the design was not ultimately accepted for the finals, it did progress through to the second round. However, the Decathlon committee did encourage the university to continue to apply for future competitions. After receiving this news, the department received a Department of Education grant, and the decision was made to proceed with construction. To foster a holistic approach to the construction, students decided to redesign the house that would allow for LEED certification.
As part of the learning experience, two semesters of special topics courses were created to support and monitor the construction process. The first semester was designated for planning and researching prior to construction. The second semester was allocated to the construction of the home.
Students identified individual systems within the process and formed groups to research their areas of interest. The teams covered heating and cooling, water heating, photo voltaics, design and functionality, LEED certification, rain water harvesting, windows and doors , etc…
Student groups would collaborate on their finds and select systems based on efficiency, LEED, and budget; to determine the best possible choice in selecting a material or process for the project.
This process provided the students practical knowledge and hands on application with an actual construction project.
The next phase of the project will involve the analysis and assessment of the home's efficiency and design. The Engineering Department's Senior design students will utilize this space for research and planning. The Solar Home will also serve as a visitor center and outreach facility; and serve as a inspiration for technical innovation to students and the community. The facility will also be open to the local USGBC chapter for use as a potential training center.