Publications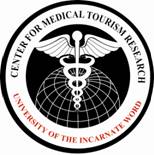 The following is a sample list of research by Center of Medical Tourism Research personnel:
Journal Articles
Guiry, M. (2010), "Brand Positioning in the Medical Tourism Industry: A Brand Personality Perspective," International Journal of Behavioural and Healthcare Research (eds. Teachout & Vequist), 2 (1), 20-37.
Vequist, D. & Valdez, E. (2009), Journal of Commercial Biotechnology, "The Correlation between Medical Tourism and Biotechnology," Oct., 15 (4), 287-289.
Recent Invited Speaking Events
(Planned for Next Year)- 2011 International Conference on Business, Hospitality and Tourism Management (Dr. Guiry)

(Planned for Next Year)- 2011 Cardiology Administrators- Chicago, Illinois (Dr. Vequist)

(Planned for Next Year)- 2011 Egyptian Medical Tourism Conference- Cairo, Egypt (Dr. Vequist)

LifeSciences Alley- Minneapolis, Minnesota (Dr. Daly)- Dec. 2010

Healthcare Think Tank- San Antonio, Texas (Dr. Vequist)- Dec. 2010

MENA Healthcare Infrastructure Conference- Cairo, Egypt (Dr. Vequist)- Oct. 2010

Medical Tourism Educational Seminar- Cairo, Egypt (Dr. Vequist)- Oct. 2010

Cyprus Medical Tourism Congress- Nicosia, Cyprus (Dr. Guiry)- Sept. 2010

Congreso De Turismo Medico Puerto Vallarta 2010 - Puerto Vallarta, Mexico (Dr. Vequist)- Sept. 2010

Mexico City Medical Tourism Congress 2010- Mexico City, Mexico (Dr. Vequist)- Sept. 2010

Ethics in Medical Tourism- Vancouver (at Simon Fraser University), Canada (Dr. Vequist)- June 2010

Global Spa Summit 2010- Istanbul, Turkey (Dr. Vequist)- May 2010

2010 European Medical Tourism Conference- Venice, Italy (Dr. Vequist)- April 2010

2010 Global Business & Economics Conference- Greece (Dr. Teachout)
Interviews
GE's HealthyMagination Site (Dec 2010)
American Society of Dental Hygienists magazine- Access (Dec 2010)
China Daily News (largest Chinese English Newspaper- expected Dec 2010)
San Antonio Business Journal (11 Oct 2010)
Cyprus Mail (Sept 2010)
Puerto Vallarta TV (Sept 2010)
Modern Pharmaceuticals (Indian Pharmaceutical Magazine Jan 2010)
Houston Chronicle (14 Feb 2010)
El Financiero Interview (17 Jul 2009)
Press and/or Quoted
Summaries
Medical Tourism Magazine Articles
Journals