About Us
TRiO Staff
Wynette H. Keller
Director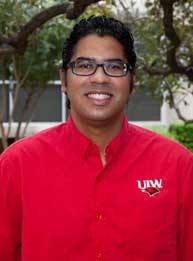 Victor G. Burgos, M.Ed.
Program Counselor
Phone: (210) 832-2152  
Email: vburgos@uiwtx.edu
Born in Puerto Rico and raised in Texas, Victor has over 13 years' experience working closely with students in higher education within various offices such as the Supplemental Instruction Program, Disability Services, Financial Aid, and now, TRiO. As a first-generation college student, he obtained his Bachelor of Arts in Classical Studies and a Master of Education in Education Leadership & Policy Studies from The University of Texas at San Antonio. Victor's mission as Program Counselor is to provide academic, career, financial aid, and personal counseling to TRiO students. When not devoting his time to assist students, Victor enjoys spending time outdoors with his wife and two sons.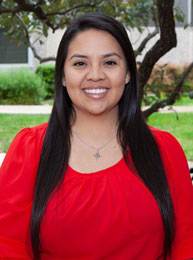 Celeste H. Medellin, B.S.
Program Leader
Phone: (210) 829-3925
Email: chmedell@uiwtx.edu
Celeste was born and raised on the southside of San Antonio, graduating from Harlandale High School. She is a first-generation college student and earned her Bachelor of Science in 2018 from Texas A&M San Antonio. Celeste has over 5 years of experience working in higher education in various offices such as dual credit, advising and counseling. Her mission is to provide support and help motivate students to recognize their academic potential while becoming the first in their family to graduate from college. When she isn't working with students, Celeste enjoys spending time with her family at the ball park.