Captain
Erin Gerloff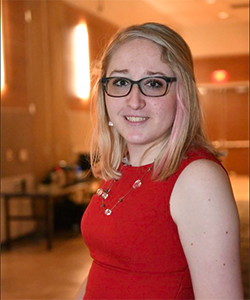 Erin is currently a Senior majoring in Cyber Security at the University of the Incarnate Word. Erin became involved in the UIW eSports team to spread her love of competitive video games throughout the university. Her personal love of gaming started with the release of the original Kingdom Hearts 2 in 2005. From this, she played just about any console game she could get her hands on, leading up to her discovery of Warframe on Playstation 4. With over 300 hours logged in the game, she was selected to become a member of the "Guides of the Lotus" program, a program dedicated to helping new players learn more about the game and grow. After spending time as a Guide, she became a member of the game development testing team, where she tested upcoming releases for the company.

In 2017 during season 7, Erin discovered League of Legends and instantly excelled, becoming high silver after only two months playing the game. From there she ended season 7 as Gold 5 and continued to end season 8 as Plat 5. Erin attended many different tournaments for the game and was selected to become a junior representative for Cloud 9. After spending a year with Cloud 9, both coaching and organizing games and practices, Erin chose to move away from that path to start her own competitive eSports teams at her UIW.  In September of 2018, Erin took over the presidency of the former UIW Gaming Club and founded our first two competitive teams at UIW, one for League of Legends, and one for Super Smash Brothers Ultimate. The League of Legends team went through two roster changes and qualified for the playoffs while the Super Smash Brothers Ultimate team competed in the CSL regional qualifiers.

On April 26, 2019, Erin coordinated the Texas Super Smash Brothers Invitational here at UIW in the Student Engagement Center. This 12 hour event brought together Universities from across Texas such as, Baylor and UT and increased the University of the Incarnate Word's popularity within the eSports competitive community. It was the success of this event that made team decide to apply to be an official club sport.