Coach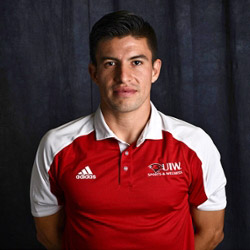 Isaac Sanchez
Head Men's Club Soccer Coach
Head Men's Soccer Coach Isaac Sanchez enters his second season at the University of the Incarnate Word. Born and raised in Mexico City, Mexico, Isaac Sanchez earned himself a long list of individual accolades during his 4 years at Embry-Riddle Aeronautical University. He was a four-time All-Conference selection, a four-time NSCAA All-West Region, Cal-Pac Freshman of the Year, NSCAA Scholar All-American and was twice named NAIA All-American Honorable Mention. Sanchez left the Eagles with a record 48 goals to go along with 45 assists.
His playing career continued on as he competed the past three years in the USL-PDL for the Midland/Odessa Sockers FC. During his tenure with the Sockers, Sanchez was awarded PDL All-League selection in 2015. The following year Sanchez was named captain and led the team to their best record in franchise history, with a Southern Conference Championship and a Final Four appearance.
Sanchez graduated magna cum laude from Embry-Riddle with a degree in Aviation Business Administration. However, his passion for the game made him change directions and pursue a career in coaching. He currently holds a US Youth Coaching Certification and a USSF 'C' National License. Sanchez is looking forward to continuing his coaching education after accepting an invitation to lead the UIW Men's Soccer Club team. Currently Isaac is obtaining his Masters Degree in Sports Management.
Head Coach Needed
 Issac will be graduating December 2019 and a new coach is needed to take over once he leaves. If you are selected to be the next coach you will shadow Issac and the team will be given to you at the end of the year. Follow the application link below to see the requirements and apply for the Men's Club Soccer Head Coach position.