Annual Celebrations
Feast Days & Marian Feast Days
How come Mary has so many feast days and different names?
Feast days (and solemnities and memorials) are days in the liturgical calendar where the Church highlights and honors an aspect of the Lord, of Mary, or of a particular saint. The Marian days usually fall into different categories. Some of them commemorate a particular event in Scripture, such as the Annunciation or the Visitation. Others highlight various apparitions, such as the feast of Our Lady of Guadalupe or Our Lady of Fatima. Still others relate to dogmatic statements about Mary, such as the Solemnity of the Assumption, or the Solemnity of Mary, Mother of God. Other Feast days are based on popular Marian devotions (Our Lady of the Rosary, etc.). Similarly, the many different titles of Mary acknowledge the breadth of her experiences and influence. Some of her titles relate to her life as the mother of Jesus (Theotokos, or "God-bearer," or Our Lady of Sorrows). Other titles are geographic, commemorating her apparitions in certain places (Our Lady of Lourdes, etc.) Some of her names relate to the Catholic belief that she continues to pray for us and four our needs (Advocate, Comforter of the Afflicted). There are also many names that center on imagery and symbolism (one very beautiful name is Star of the Sea, indicating that Mary can help us orient ourselves towards Christ).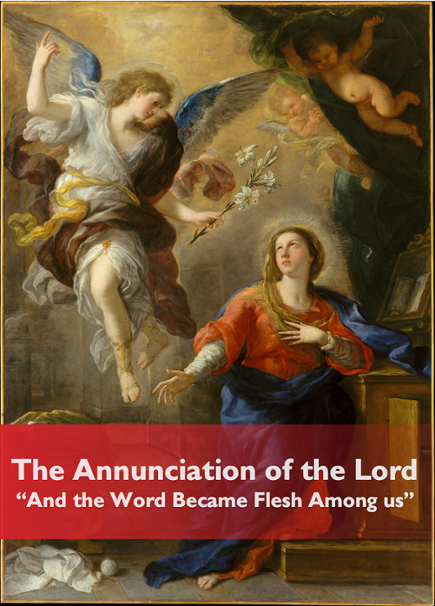 Feast of the Annunciation (Solemnity of the Annunciation of the Lord)
March 25 - This is the Feast of the Annunciation. This is the Feast day for the Sisters of Charity of the Incarnate Word, The Founders of the University of the Incarnate Word.
History
Originally a feast of our Lord, but now celebrated as a Marian feast, the feast of the Annunciation dates back at least to the fifth century, and the date of the feast, which is determined by the date of Christmas, was set at March by the seventh century.
The Annunciation, as much as or even more so than Christmas, represents Christ's Incarnation. When Mary signaled to Gabriel her acceptance of God's Will, Christ was conceived in her womb through the power of the Holy Spirit. While most of the Fathers of the Church say that Mary's fiat was essential to God's plan of salvation, God foresaw Mary's acceptance of His Will from all eternity.
The narrative of the Annunciation testifies powerfully to the truth of the Catholic tradition that Mary was indeed a virgin when Christ was conceived, but also that she intended to remain one perpetually. Mary's response to Gabriel - "How shall this be done, because I know not man?" (Luke 1:34) was universally interpreted by the Fathers of the Church as a statement of the Mary's resolution to remain a virgin forever.