Meet Our Office
Office of Title IX
Our office is located on the fifth floor of Founder's Hall. You can reach us via phone at (210) 283-6449, via email at TitleIX@uiwtx.edu or through our individual contact information below.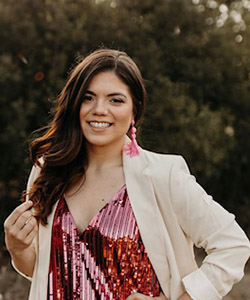 Alexandria Salas Navey, Esq.
Director of Title IX
(210) 283-6977
ansalas@uiwtx.edu
Alexandria Salas Navey has been with the University of the Incarnate Word since September 2019 as the Director of Title IX, handling Title IX compliance and sexual misconduct investigations. Alex is a licensed attorney in the State of Texas that formerly worked as an Assistant District Attorney in both Cameron County, TX and Galveston County, TX handling all types of misdemeanor and felony cases. She has a B.A. in Political Science from the University of Houston and a J.D. from Texas Southern University's law school, the Thurgood Marshall School of Law.
Alex loves soccer and watching Spurs games with her husband. She lives with her husband, who is also an attorney, her daughter, and their two cats and one dog.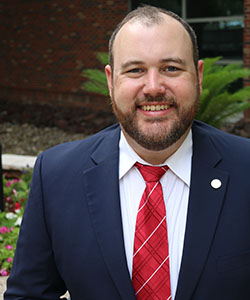 Matthew Carpenter
Investigator
(210) 832-2105
macarpen@uiwtx.edu
Matthew Carpenter is the Investigator for the Office of Title IX and for the office of Human Resources. Matthew has been with the University of the Incarnate Word since July 2019, previously working as the Director of Student Advocacy and Accountability. Prior to working at UIW, Matthew worked at the University of Oklahoma and Wichita State University in student conduct, residence life, and campus recreation. He received his B.B.A. in Human Resources Management and his M.Ed. in Educational Leadership and Policy Studies from the University of Oklahoma.
Matthew is a huge sports fan, regularly attending UIW Cardinals, Spurs, and Missions games whenever possible, as well as working as a high school sports official in football and baseball in San Antonio and South Texas. A San Antonio native, Matthew is happy to be back in San Antonio, being closer to family, with his husband and two dogs.
Title IX Deputy Coordinators
Deputy Coordinators are University employees who volunteer to assist the Office of Title IX in the investigation and resolution of complaints. Contact information for our current list of Deputy Coordinators is below:
Dr. Lisa McDougle
Assistant Dean of Academic Success and Student Affairs
School of Physical Therapy, Saidoff Center, Room 2113
(210) 283-6949
mcdougle@uiwtx.edu