Volunteer
UIW International Student and Scholar Services have many great opportunities to volunteer throughout the year.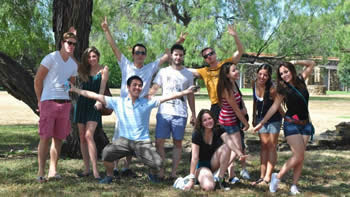 Join the Ambassador, all UIW continuing students are eligible to apply and assist international students adjust to life at UIW and in the U.S
International Education Week Committee
Join the IEW committee, all UIW continuing students are eligible to volunteer to help plan and prepare for the U.S. Department of State initiative, a week in November celebrating the internationalization of UIW.
International Events Committee
Join the Events committee, all UIW continuing students are eligible to volunteer to help plan the best events UIW has to offer to international students during their time here in the U.S. and much more!
International Ambassador Program 2018
Education . Truth . Faith . Service . Innovation
Launched in 2015, the UIW International Ambassador Program is an intercultural exchange program through International Student & Scholar Services to connect new UIW international students with UIW students and the UIW community. While serving the UIW mission, volunteers experience diverse cultures and share U.S. culture with new students from around the world.
The International Student & Scholar Services (ISSS) International Ambassador Program matches globally minded students who are familiar with the campus and University of Incarnate Word with incoming international students. Ambassadors help new international students adjust to life at UIW and in the U.S. by assisting new incoming international students during their transition to the UIW and San Antonio community.
The program is a one to two semester volunteer commitment with leadership and mentorship training as well as intercultural and interfaith training.
Ambassador Selection Criteria
Must have completed at least two semester (Fall & Spring semester), or a must be returning exchange student of UIW.
Must be in a good academic standing.
Submit at least two references (References can be UIW staff or professor, employer, other authority figure).
All candidates must be screened for an interview.
Complete and submit the application form.
Ambassador Duties
Assist with pre-arrival communication for newly admitted international students
Welcoming and networking with assigned students, answering questions about housing, transportation, adequate campus resources, and airport pick-up.
Assist with International immigration check- in.
Assist with Fall and Spring International Student Orientation and off campus events
Responsibility also includes airport pick-up, shopping trips, and campus tour.
Assist with off campus orientation events such as:Six Flag, San Antonio Downtown and other attractions.
Maintain contact with assigned Advisor International Advisor each semester and respond to monthly update requests.
Assist with and attend UIW ISSS events and promote attendance
International Ambassador Leader 2018
Are you a current Ambassador? Looking for a leadership position and on campus job opportunity. ISSS is looking for current or former Ambassador to apply for the Ambassador Leader position.
The position would require 5-10 hours a week working with ISSS to help develop training for new ambassadors throughout the semester. The position also manages communication, volunteer rosters, event programming logistics, leads Ambassador meeting and events as well was logistics and recruitment for the St. Peter's Elementary Global Presentation Program.
If interested email Danielle Vogel at dvogel@uiwtx.edu