Arrival at UIW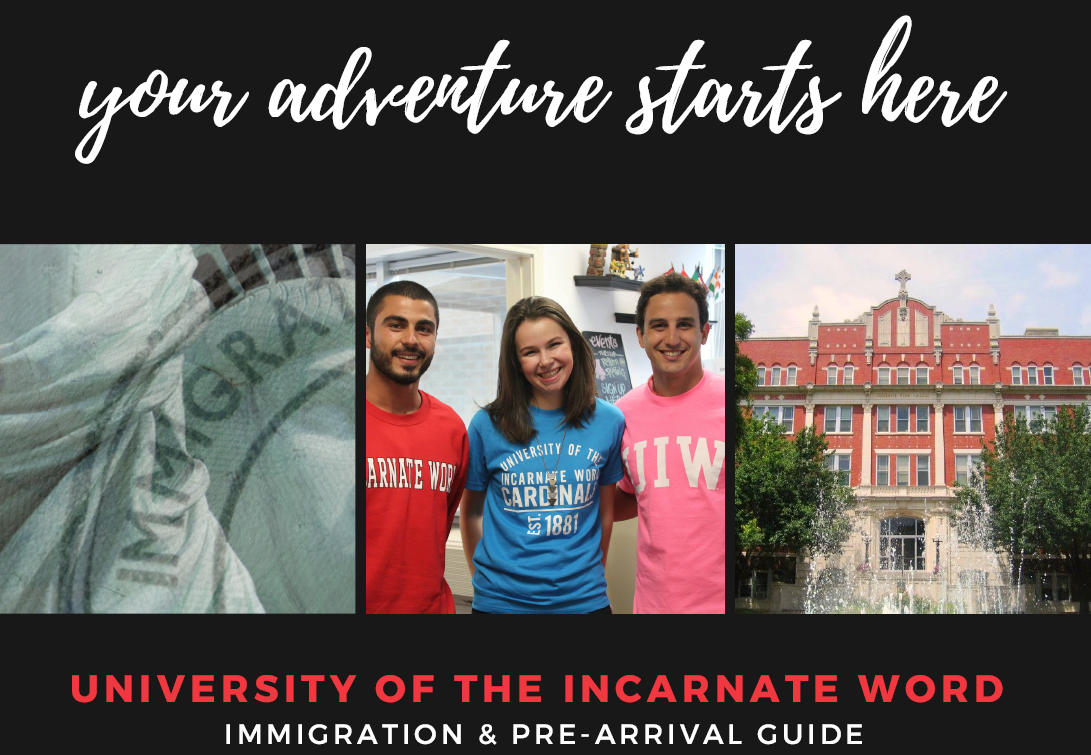 Once you receive your admission packet:
Once you finish your admission process, you will receive a UIW International Student Admission Packet:
The packet will include:
UIW Admission Letter
Certificate of Eligibility: I-20 for F-1 Students or DS-2019 for J-1 Students
UIW Pre-Arrival App

Arrival and Orientation Dates
Social Media Account & Your Visa
SEVIS Fee
Visa Interview FAQ
Port of Entry Handouts

UIW International Health Insurance Information
U.S. SIM Card
Department of State EV Brochure (for J-1 students only)
Both International Admissions (Amy DeStefano) and International Student and Scholar Services (ISSS) staff will be sending you emails and updates before the semester starting with exact Orientation details and arrival information.

Pre-Arrival Checklist
Step 1: Pay your SEVIS fee
You will receive your DS-2019/I-20 form via UPS from ISSS. Within this package are various information sheets on what you need to do. International Students must pay their SEVIS fee before scheduling their visa appointment.
Step 2: Schedule Visa Appointment
Make sure to schedule your visa appointment as early as possible to assure plenty of time to process your visa application and receive your passport back.
Step 3: Submit Proof of Meningitis Vaccine
Texas law requires all new students under the age of 22 to provide proof of immunization against bacterial meningitis within five years before registering for classes. The law, which applies to students at all higher education institutions, both public and private, is meant to protect the health and well being of all on campus. UIW's Health Services offers vaccinations against bacterial meningitis; more information may be found on the Health Services web site. Vaccinations may also be obtained from local clinics or your primary care physician.
Step 4: Apply for Housing
Housing is assigned on a first-come, first-serve basis from the date of application and deposit being received. Information on housing options and the application can be accessed through the Housing Portal. Be prepared to submit a $225 deposit and proof of vaccine.
Step 5: Visa Status & Arrival Information
Once you have completed your visa interview, please email the outcome to adestefa@uiwtx.edu. If you have been granted a visa and plan to live on-campus, transportation is provided to the campus within orientation arrival dates. Be sure to email the International Student Office at intl@uiwtx.edu to arrange for airport pick-up and to schedule your flights based on the arrival dates listed in your information packet.
Step 6: Registration and English Proficiency
Undergraduate students will be preregistered for classes before arrival. Graduate and doctoral students are required to meet with their academic advisor (listed in acceptance letter) before registering. These students are encouraged to start communicating with their advisor upon receiving their visa to schedule an appointment for registration.
Step 7: Attend International Orientation
ALL international students are required to attend International Orientation before the beginning of their first semester. Be sure to bring your passport, DS2019, I20 &I-94 card to orientation, as copies are required to be on file. Information on immigration regulations, registration, English language requirements, student services, campus tour, dorm move-in, etc. will be addressed at orientation.

The thing to remember before arrival:
Please keep in contact with our office throughout your visa and arrival process.
Visa Approval
Contact our office as soon as you receive your visa from the US consulate using the UIW issued "Certificate of Eligibility". If you are denied a visa, please let us know so that we can help you reapply at a later date, they may require that you request we defer your admission to a later semester. Email adestefa@uiwtx.edu regarding the results of your Visa Approval or Denial.
Travel Arrangements
All students should arrive in San Antonio, Texas, on designated ARRIVAL DATES included in your Admission Packet. Late arrival is not allowed; arriving late will place you at an academic disadvantage as well as complicate your visa status. If you arrive before the designated arrival dates, you may need to arrange for a hotel and transportation at your own cost. If you are driving to San Antonio, please email intl@uiwtx.edu to confirm which day you will arrive. Be sure to check the UIW Travel Updates before booking your ticket. If you encounter any difficulties at the US Port-of-Entry, contact our emergency line at (210) 805-5705.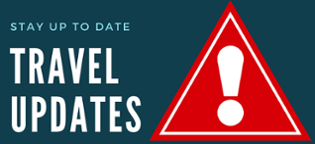 Port of Entry
When you enter the United States, please be sure you have all of your documents (I-20/DS-2019, Passport, Visa, I-94) readily available for the Immigration Inspector stamp. Read the "U.S. Port of Entry Information" sheet to ensure you arrive safely in the US. You will receive the Form I-94 on the airplane. Always safeguard these documents and carefully read the enclosed "U.S. Port of Entry Information" section below. Remember, once you enter the US with an I-20 or DS-2019 from our university, you must check in with our office.
Immigration Check-In and International Student Orientation:
All new students are required to:
Check-In with the UIW International Student and Scholar Services office as soon as they arrive in San Antonio.
Attend the UIW Immigration Briefing & Check-in (UIW IBC) to verify and activate your immigration status in the U.S. 
Where:
Check your UIW Pre-Arrival App for location details.
When:
Included in your UIW Pre-Arrival App are your required arrival dates.
All students should arrive in San Antonio, Texas, during the arrival date. Late arrival is not allowed; arriving late will place you at an academic disadvantage as well as complicate your visa status. If you arrive before the arrival date, you may need to arrange for a hotel and transportation at your own cost. Campus housing and Airport pick up options are not usually available before arrival dates.
Questions?
About Housing and Class Registration:
Amy DeStefano
email: adestefa@uiwtx.edu
WhatsApp:  +1 210.427.7403
Immigration and Visa Issues or Orientation and Arrival:
Contact ISSS - Jose Martinez or Sheena Connell
email: intl@uiwtx.edu
WhatsApp: +1 (210) 805-5705