Signature Programming
The UIW Honors Program offers a variety of high-impact and immersive cultural and academic opportunities beyond the classroom to enhance your educational experience.
Arts and Music Festival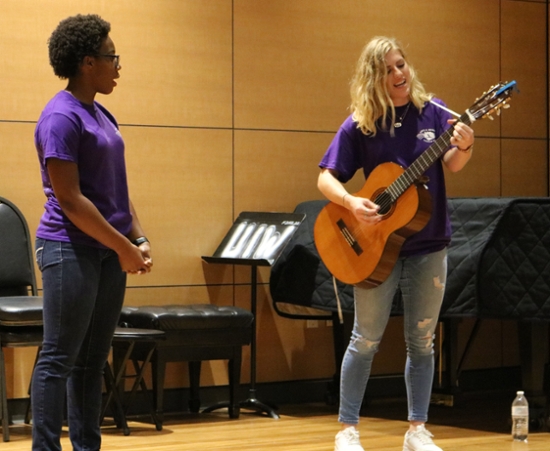 The Honors Program began this festival during Homecoming Week 2010 to showcase UIW talent in the visual and performing arts. The crowds are getting bigger each year as we proudly show off the artistic creations of current students, alumni, faculty and staff during the Arts and Music Festival. Admission is always free and the event is open to the public.
Performances include the Chorale coffeehouse, poetry readings, dancing, skits and more music. Proceeds from the sale of decorative and wearable art go to the Honors Program Scholarship Fund and is used to fund the various scholarships you can see on our Benefits page. Original art by UIW students, alumni and faculty continues to be sold online through our online auction site that is released the week prior to the festival.
E.D.G.E Series Seminar
Explain. Demonstrate. Guide. Enable.
The EDGE Seminar Series offers students the opportunity to hear from university and community leaders on topics that help facilitate their professional, personal, and academic growth. Students will learn from professionals on various topics such as professional communication, research poster construction, interview and work etiquette, and so much more.
EDGE Series Seminars are offered bi-weekly throughout the Fall and Spring semester and a complete schedule can be located on the Honors Program Student Cohort Canvas calendar.
Human Library
In Spring 2017 the Honors Program, with invaluable support from the Mabee Library, sponsored the university's first Human Library, a place where real people are on loan to readers. It was such a success that we have continued to offer the event each spring, with the exception of semesters affected by COVID. The format is designed as a positive framework for conversations that can challenge stereotypes and prejudices through dialogue. To that end, human books represent a variety of topics that often carry misconceptions and myths. "Readers" can "check out" the identified Books during the specified times.
As our readers disclosed, Human Books can "challenge discrimination and find allies" when readers realize that "Common stereotypes are prohibiting us from solving conflicts by keeping us in fear of the unknown."
Culture Café
The Honors Program launched a new program in Fall 2021 dubbed "Culture Café" that dives into the discovery of our collective knowledge; learning from each other; sharing ideas and insights; gaining a deeper understanding of a topic and the issues involved and exploring possibilities. The aim of the café is to expose our students to conversations regarding highly debated topics that are relevant to what is happening in the world around them and to connect us all with each other. The Café has given our students the opportunity to engage in a thoughtful and intentional way and provides them an opportunity to discuss their opinions, biases, and questions in a safe space. In the past year, our students have covered topics such as:
Privilege
Gender Inequality
Police and Society
Climate Change