Honors Alumni Mentor Program
Honors Alumni Mentor Program
Impacting the Next Generation of Honors Scholars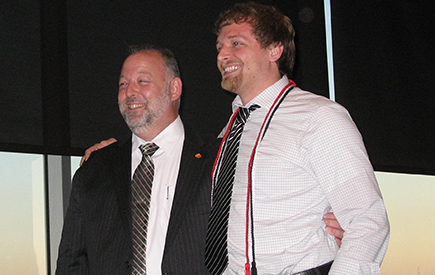 The Honors Alumni Mentor Program connects Honors Alumni to current Honors Students. We'll do our best to pair individuals based upon college, major, career interest, potential post-graduation destination and plans. UIW alumni come from a variety of professional fields and many go on to top medical, pharmacy and physical therapy schools, law schools, and MBA programs, as well as employment directly related to their career goals.
Mentors are selected for their wealth of real-world, occupational, and professional experience. Our goal is for mentors to share their wisdom and life skills to assist students in developing sound decision making and resiliency in their lives. Alumni mentors may provide advice to students on academic degree and career exploration, career and/or graduate school preparation, professional development and balancing school, career and outside interests.
Eligibility
Mentors MUST be Alumni of the UIW Honors Program. Applicants must also have three or more years of professional experience after earning their first undergraduate degree, and be a graduate from UIW in 2018 or earlier.
Mentors will be selected for their wealth of real-world, occupational, and professional experience. If you do not meet this criteria, but would like to be more involved, we recommend you contact us at honorsprogram@uiwtx.edu.
*Every attempt is made to match all interested Mentors with Mentees, but not all applicants may be matched each year.*
Commitment
Each mentorship pair will be required to have at least one meaningful (one-hour) meeting each month for one academic year (Fall and Spring semesters). Pairs are encouraged to meet in person, text, zoom, email and correspond throughout the semester. Each pair will set goals that will provide a guide for these meetings.
All Mentors selected will also be required to attend one Honors Alumni Mentor Program event per semester.
Alumni Responsibilities
Share your ideas, give advice, and be a resource of support
Visualize both their career path and different career options more clearly
Practice the skills needed to develop a large network of professional contacts
Prepare for the rigors and realities of the professional world
Expand their network of UIW advisors and enhance their undergraduate experience
Timing
Applications for Alumni Mentors will close on July 29, 2022. At that point, we will apply a compatibility matrix to applicants, and then pair Mentor to Mentee for the greatest match possible. All individuals will be required to attend an event kick-off on Thursday, September 8, 2022. The program for Fall 2022 will last through April 2023.
Your Next Steps
Once the deadline approaches, applications received will be reviewed for selection.
Mentors will be notified via email to let them know of their selection and their student match.
Matches will meet during the Mentor Program Kick-Off Event and solidify their Mentor-Mentee Contract and Program goals.